Adults knitted slippers – Suite à de nombreuses demandes de personnes anglophones, voici la version en anglais du tuto des chaussons pour adultes.
English version now available
Version française ici : tuto des chaussons
Because adults also need slippers !!
These are the perfect slippers to cosy up with a good book or watching a movie. On that note, Barbara from "She Knits and More" blog calls them "Chillaxing slippers". I really like this nickname.
In my family, each of us owns their own pair.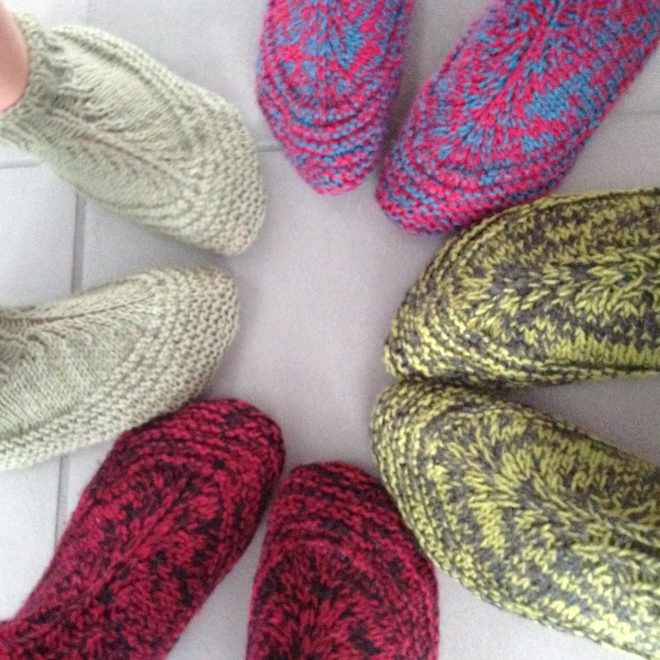 Here is a new pair for me: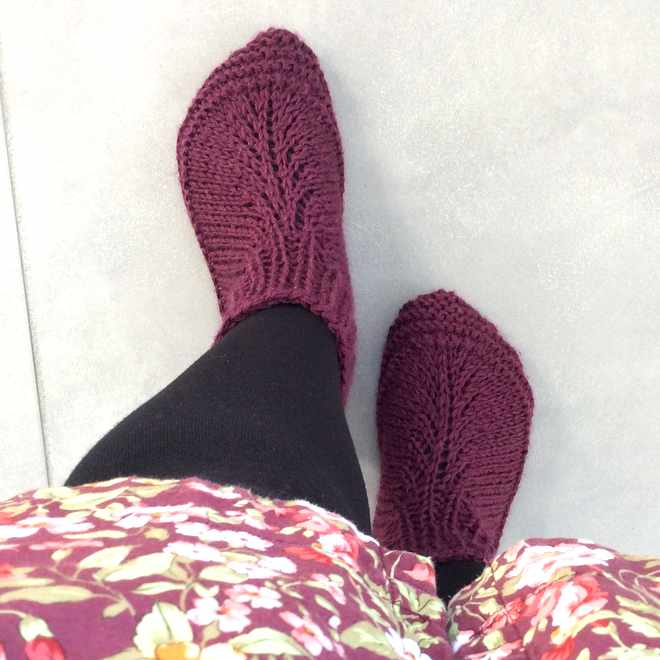 For these slippers, you would need 2 balls of Cho'7 yarn from Bergère de France (65% combed wool, 35% chlorofiber), for a total of 250m.
If you are lucky enough to find some yarn containing chlorofiber, just grab it, because it is discontinued ! Chlorofiber offers a very good thermal insulation.
I found a few balls remaining at one of my yarn suppliers. They were in a huge trunk together with loads of yarn, but even then, she was able to spot them right away. YEAH !! and a huge THANK YOU !!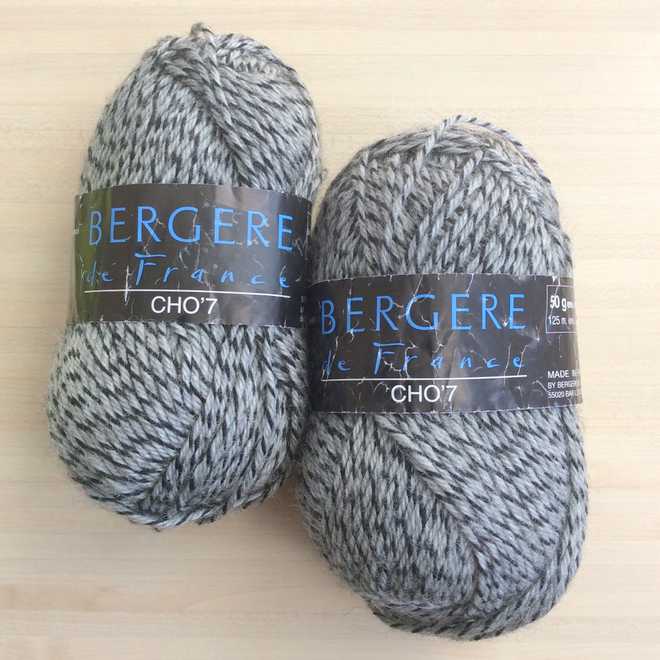 I keep these carefully in my stash. They are my very last ones.
Tutorial to knit slippers
Supplies
2 balls of 150 m each (150 m for 50g) : knitted in double.
Needle US 9 or 10 for shoe size of 7 to 9 (woman)
If you need a smaller size (5 or 6): use needle US 8. If you need a bigger size: see a little further down below.
We can see that they stayed in the trunk for a long time 😉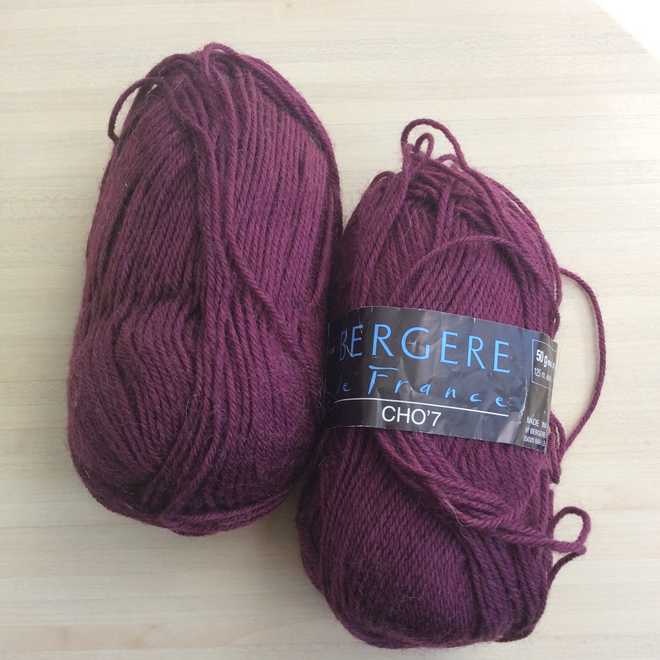 Tip
Small tip to choose the yarn : the more polyamide your yarn contains, the longer your slippers will last.
How to build your slippers
Each slipper consists of 3 sections :
garter stitches for the sole of the slipper,
stockinette stitches for the top of the slippers,
and ribbing for the ankle.
If you run out of yarn, you can knit the ribbing in a different color.
If you want to know whether you have enough yarn left, weigh all remaining yarn when you reach the ribbing section and check if you have at least half the starting weight left.
REMINDER : knit your slippers with double yarn, one thread from each ball.
SECTION 1 : Garter Stitches
Cast on 76 sts.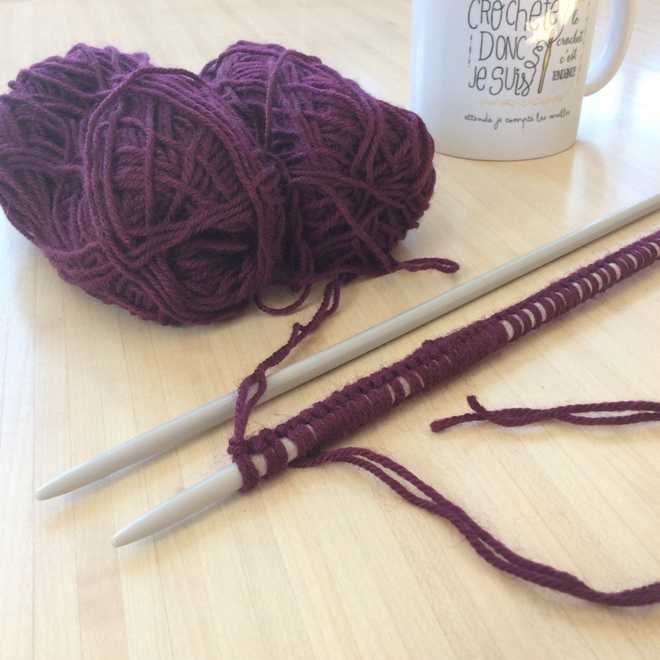 Knit 5 cm of garter sts,
If you need a bigger size slipper: cast on 82 sts and start decreasing with 35 sts up to 17.
SECTION 2 : Stockinette Stitches
Knit as follows:
K32, then K2tog 6 times, K32, next row Purl all.
K29, then K2tog 6 times, K29, next row Purl all.
K26, then K2tog 6 times, K26, next row Purl all.
K23, then K2tog 6 times, K23, next row Purl all.
K20, then K2tog 6 times, K20, next row Purl all.
K17, then K2tog 6 times, K17, next row Purl all.
K14, then K2tog 6 times, K14, next row Purl all.
SECTION 3 : Ribbing
K1, P1 ribbing rows for 5 cm.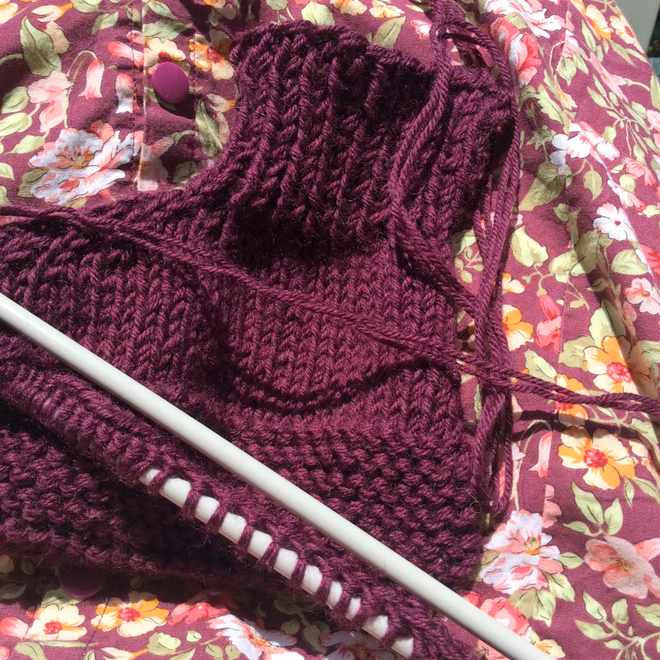 Finishing
Bind off all sts and leave enough yarn to sew the sole.
It should look like this before sewing :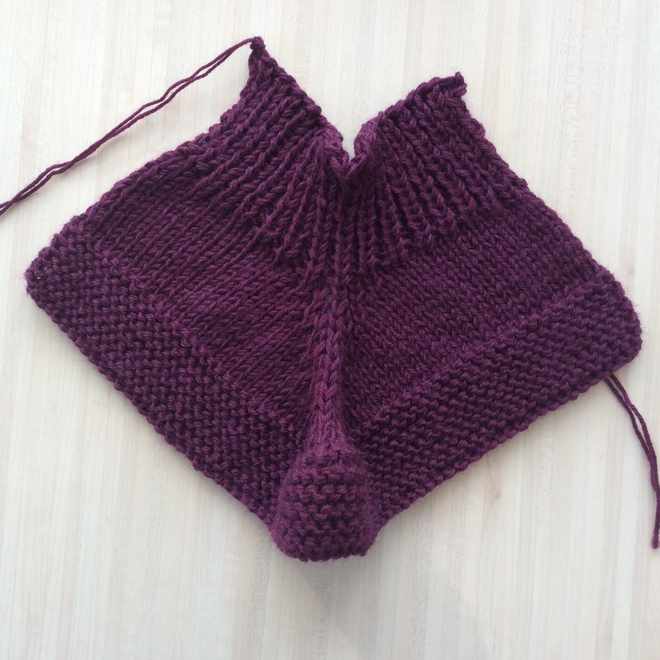 Fold your slipper in two :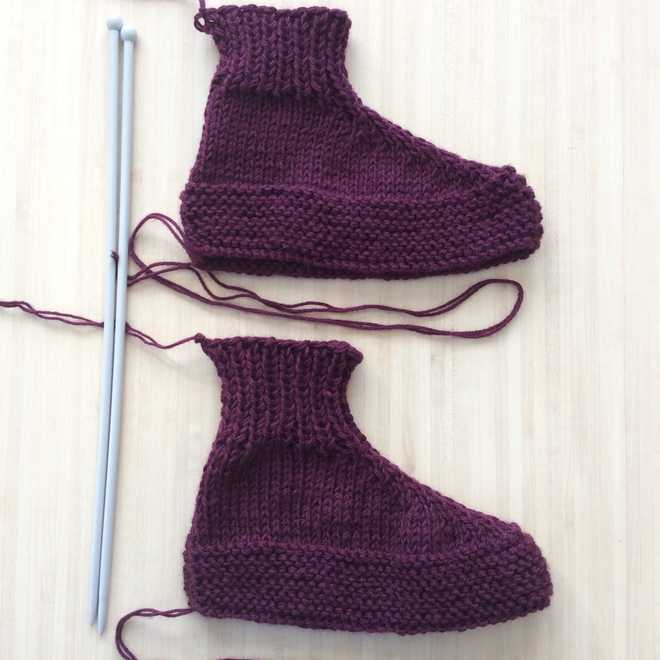 Repeat with the 2nd slipper.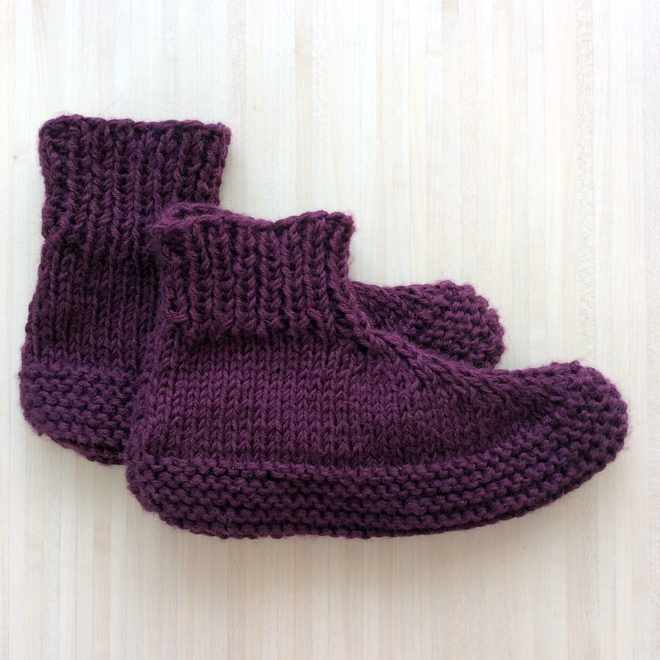 Here you go, your feet are now warm and cosy !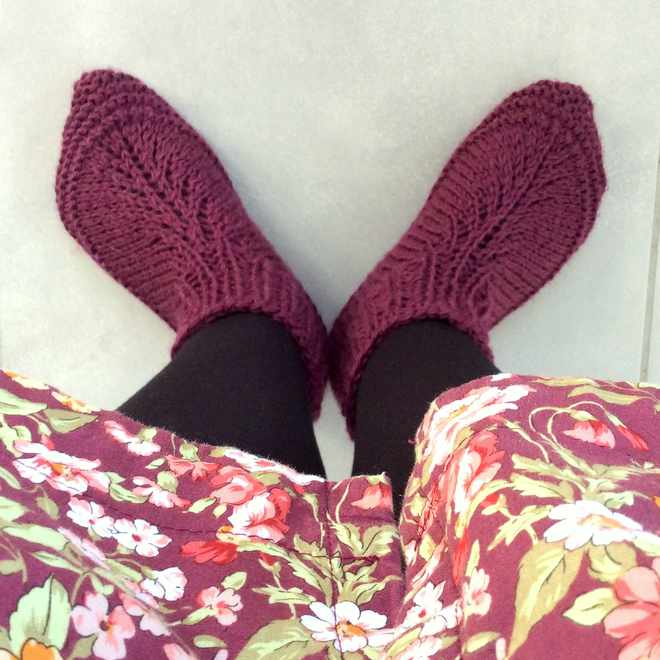 Do you like this tutorial ?
If you would like to tip me, please feel free to do so at my Ko-fi page.
Ko-fi's are never expected but always appreciated.
Ravelry
Upload this pattern on Ravelry.
My other patterns in english version are :
There are translated by bilingual persons.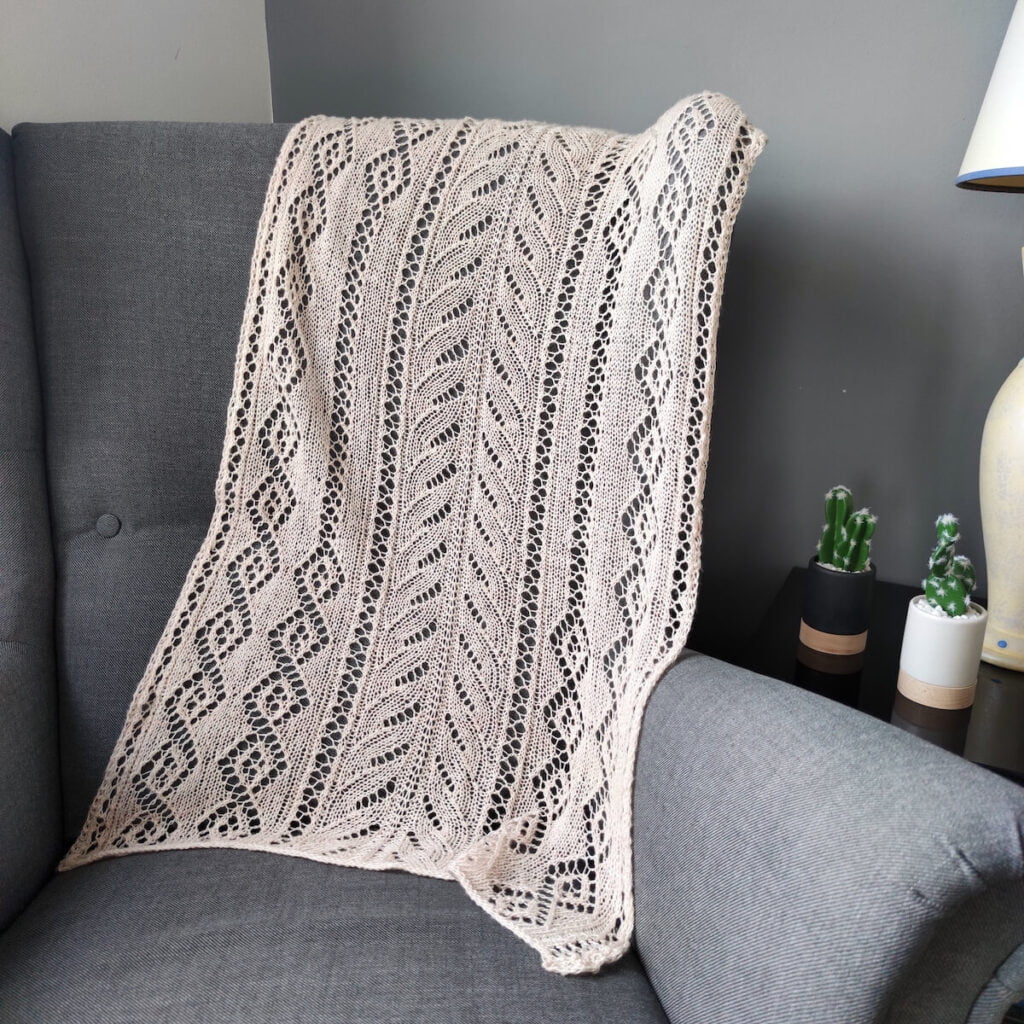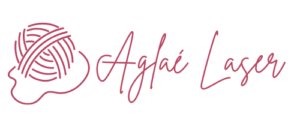 Pin this project for later :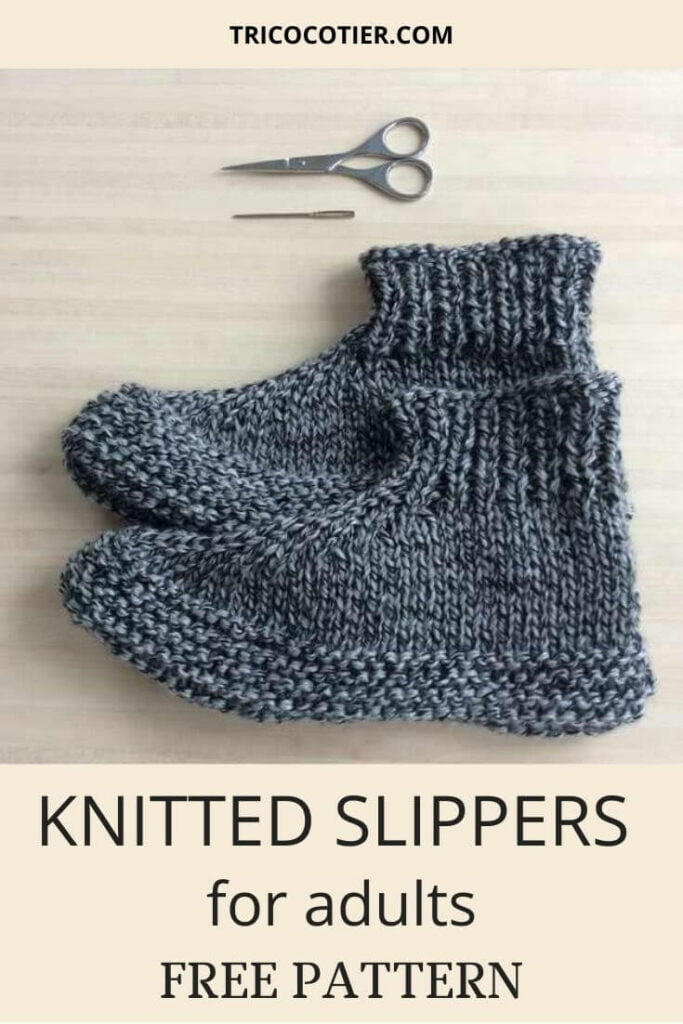 Enregistrer
Enregistrer